Trail Map
This is the map of the Windham segment, Salem to Concord Bike-Ped Trail
For Google Maps click Here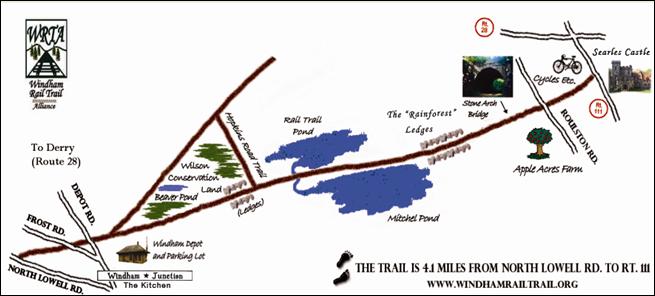 DIRECTIONS
From Route 93 - From the North
- At Exit 3, head West on Route 111 (towards Nashua) ( RIGHT at end of ramp)
- After the second set of lights (after the Commons Plaza) RIGHT on Church St.
- At the end of Church St (about a 200 yd street) RIGHT on North Lowell Road
- After going under Route 93 Bridge, AFTER Talyor's Bingo Hall and BEFORE "The Windham Junction" RIGHT on Depot Rd.
- After about 200 yards, Windham Depot parking lot is on the RIGHT
From Route 93 - From the South
- At Exit 3, head West on Route 111 (towards Nashua) (LEFT at end of ramp)
- Same directions from step 2 above
From Route 28
- Either North or South on Route 28
- At the flashing light turn on Windham Depot Road at Day Care center.
- At about 1 mile, Windham Depot parking is on the LEFT.
Note:
At the Windham Depot parking lot, heading SOUTH, this scenic rail trail runs to Roulston Rd with 3.5 miles of pavement and 4ft of stone dust shoulder. The remaining half mile is hard pack and passable for hybrid or wide tires. Heading NORTH, after crossing Depot and Frost Roads, trail continues for about 600 yards for easy access to the Windham Variety Store and to the paved section of the Derry Rail Traill to Derry Center. Although available, parking is limited at Roulston Rd. Combined, the Windham and Derry Rail Trails provide for 8 miles of a continuous paved rail trail. The Windham Junction Kitchen is located about 100 yds from the Depot at the corner of Depot and North Lowell Roads.
Click here for Regional Map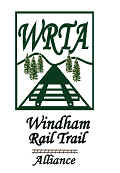 Copyright © 2014 Windham Rail Trail Alliance